Our company
Our company is made of a team of skilled specialists whose expertise in today's business competition is determined primarily by accuracy, efficiency and responsibility in performing tasks of any complexity.
Our capabilities
The whole range of accounting services . This is what we offer. For you and your business.
Our objective
To prove how easy and convenient it is to work with us.

Philosophy
Businesses differ. Nevertheless, one of the pivotal aspects and the universal language of any business is accounting. Any development of the company without accounting is out of the question. Business of the 21st century dictates its terms, the most important of which is a well-thought-out organization of the operations. This is the main key to success.
Customized accounting services enjoy great popularity in today's market. Accounting outsourcing has become the ideal companion for business operators of any level. The customer understands that contracting to an external provider who is a competent and reliable company is not only cheaper, but also provides a better and therefore more professional quality.
It is traditionally believed that the older the accounting company, the better it is, as it can boast of valuable experience gained over years of practice in the field. Yet, the basis of any accounting company is its experts, and not always a start-up company means novice accountants.
IT & FINANCE comapny
The company IT & FINANCE started up just recently – in March 2011 – and has already established itself as a reliable partner in the field of accounting services.
The obvious benefits of putting your trust in us:
- You reduce the costs of accounting;
- You get the perfect assistant who is responsible for proper management of all financial transactions.
Thus you get the opportunity to focus your efforts on the priority area of your business operations.
The key orientation of IT & FINANCE is reliable and successful relationship with our customers.
Contact information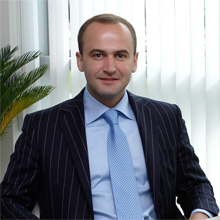 ALEXEY KLIMENKOV - Manager of IT & FINANCE
He is currently the head of finance department in a group of telecommunications companies. Coordinates the operations of the finance department, develops a unified information system and designs financial management policy of the company. Worked on the consolidation of financial accounting and development of reporting systems.
Has experience in working in financial departments of companies engaged in trading of petroleum products. Developed algorithms for accounting of financial and economic operations.
Worked on international taxation assignments.
Graduated from the Baltic International Academy. Master of Business Administration. Certified in International Financial Reporting Standards (IFRS) from the Institute of Professional Financial Managers (IPFM, London), International Accountant and Financial Manager.
A certified Microsoft Excel expert.